Mark Hutchinson
President and CEO

"Mark picked up the ball and ran with it where others had failed. I really appreciate his knowledge and insight in the San Francisco market. I certainly hope we get the opportunity to work together in the near future."
Jeffrey W. Shea, Director, Corporate Real Estate and Airport Affairs
Northwest Airlines, Inc.
"Mark was very thorough, professional and extremely easy to work with. Very responsive and timely – would recommend him (and already have)."
Chuck Lesem
Consensus Health
"From Day 1, you represented our interests in nothing but a professional and courteous manner…Once again, thank you for your assistance, cooperation, and professional knowledge of the market in San Francisco."
Daniel Farrar, Director of Education Services
Platinum Education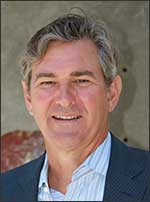 Mark Hutchinson is President and Chief Executive Officer of Dunhill Partners West and Executive Vice President of Dunhill Partners. In 2005 he founded his company after working more than two decades leasing, selling, buying, managing and investing in commercial real estate for such prominent companies as Cushman and Wakefield, Julien J. Studley, Arroyo and Coates, Damon Raike and Dunhill Partners.
At DPW, Mr. Hutchinson acts as investment partner, development manager, acquisition specialist and leasing agent for office buildings, neighborhood and community shopping centers across the Western states. Property owners, investors and businesses team up with Dunhill Partners West when searching for excellent market knowledge, leasing expertise, outstanding investment opportunities and expert advice on repositioning assets for maximum value appreciation. Properties purchased or sold by Mr. Hutchinson include the following:
2001 Van Ness in San Francisco, CA 40,000 sf mixed use building;
7250 Redwood Novato, CA 90,000 sf office building;
Mt Diablo Corp Center Lafayette, CA 80,000 sf office building;
Orinda Theatre Square 90,000 sf mixed use office and retail building;
Empire Center Antioch, CA 150,000 sf retail center;
425 Mason Street in San Francisco, CA 38,000 SF office building;
Pacific Commons, a 151,233 SF shopping center in Spanaway, WA;
The Shops at Central Park, Bedford, TX, a 200,000 SF grocery anchored shopping center;
The Market Place in Knoxville, TN, a 96,000 SF shopping center;
70,000 SF K-Mart and adjoining 13 acres of land in Coos Bay, OR;
10,000 SF Stop & Save shopping center in Mountain View, CA;
78,000 SF Millers Outpost Center in Livermore, CA;
Sierra View Shopping Center in Fresno, CA, 110,000 SF;
Big O Tire center in Sebastopol, CA, 8,000 SF;
Walgreens in Grants Pass, OR, 14,500 SF;
1875 Mission Street in San Francisco, CA,;
50,000 SF office light industrial building;
8.5 acres of land for Charter Hospital in Plano, TX.
Along with directing the company's investment and acquisition business, Mr. Hutchinson has exclusively leased two 200,000 SF Class A high-rise office buildings in San Francisco's financial district. He has provided tenant representation to such prominent businesses as Sun Microsystems, First Republic Bank, ACS, Pearson Publishing, Systems Software Associates and The Gallup Organization to name a few. In conjunction with his other business activities, Mr. Hutchinson also provides asset and property management services for acquired properties in the Dunhill Partners West portfolio.
Mr. Hutchinson is a member of ICSC. He holds a Bachelors of Fine Arts degree from Southern Methodist University, Dallas, TX. Mr. Hutchinson was the President of the San Francisco Bay Area Southern Methodist University Alumni Association for several years and served on the board for several more years. He served as President of the Redwood High School Foundation.
Hutchinson Representative Transactions