Tenant Representation Process Guide

Tenant Representation Process Guide - Steps 1 and 2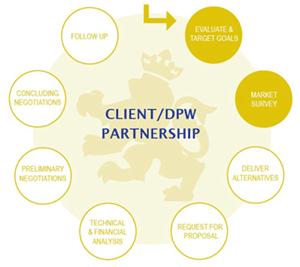 EVALUATE AND TARGET THE GOALS
Evaluate client's real estate needs and objectives. Objectives are typically determined around features affecting location, type of facility, time and cost.
Location – Establishing the best geographic location in relation to clients requirements, employees, image, environment and amenities.
Facility – Concentrating on matters involving company's projected growth, parking, technical requirements, flexibility, and security.
Timing – Determining the requirements for timing of relocation or renewal which has a significant impact on market availability.
Cost – Analyzing additional factors affecting economics, such as financing, ownership structure and landlords' negotiating leverage
Analyze the existing lease, conduct an internal lease audit and produce a detailed space plan.
MARKET SURVEY
Create a market survey to identify prospective spaces in the desired locational parameters.
Locate properties which are off market as well as available properties in the market. Your DPW Team's extensive knowledge of the San Francisco Bay Area will allow them to identify those properties that are not currently in the market but can be presented to you for potential occupancy.
Utilize Dunhill Partners West subscription to CoStar©, Loopnet© and other real estate databases which identify all buildings within the Bay Area market that will correspond with the client's requirements