Tenant Representation Process Guide

Tenant Representation Process Guide - Steps 7 and 8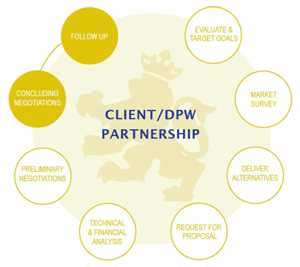 CONCLUDING NEGOTIATIONS
Work with client's legal counsel and other team members to negotiate an agreement that most favorably satisfies the client's needs in terms of operational, financial and contractual flexibility.
Provide client with an evaluation as to each specific issue raised during negotiations.
The nature and extent of the situations
Impact on the established negotiation objectives
The recommended course of action
Review final transaction agreement.
Make all information used in the negotiating process available to the client.
Provide customer with documentation that includes both the lease and the transaction agreement.
FOLLOW-UP
Review annual escalation calculations and other broad conditions to help ensure compliance with the lease agreement.
Generate a tracking system that will indicate the future timing of option and notice provisions. This process is facilitated by the preparation of a chronological summary of such provisions.